Free PDF Books for Download
Gospel Go Ministries: Free Bibles in Numerous Languages
Here are audio and video resources for Christian Missions. All people groups are targeted with the gospel of the Lord Jesus Christ. Salvation unto everlasting life is the free gift for all men who believe in Jesus. "But how shall they hear without a preacher?" Gospel Playlists can be posted on Myspace, Multiply, Hi5 and Facebook. Many of the messages and songs are courtesy of Global Recordings Network, the Jesus Film, Faith Comes by Hearing and Audio Scriptures.
The Holy Bible is free to download. Pastors, missionaries and Christian workers in every land are encouraged to go with the gospel. "So then faith comes by hearing, and hearing by the word of God."
GospelGo is a ministry of Living Faith Church
The Key to the Supernatural – by Kenneth E. Hagin

The Lord has been showing me for sometime now that the key to the last day move of the supernatural power of God will be found in two words: "unity" and "accord." According to the dictionary, the word "unity" means "the state of being one or united; oneness; singleness."
Is Your Miracle Passing You By – by Kenneth E. Hagin

And they came to Jericho; and as he went out of Jericho with his disciples and a great number of people, blind Bartimaeus, the son of Timaeus, sat by the highway side begging.And when he heard that it was Jesus of Nazareth, he began to cry out…
His Name Shall Be Called Wonderful – by Kenneith E. Hagin
For unto us a child is born, unto us a son is given: and the overnment shall be upon his shoulder: and his name shall be called WONDERFUL, Counsellor, The mighty God, The everlasting Father, The Prince of Peace. —Isaiah 9:6 In this text, Isaiah, by the Spirit of God, is prophesying concerning the birth of Jesus, the coming Messiah.
The Coming Restoration – by Kenneth E. Hagin

Be patient therefore, brethren, unto the coming of the Lord. Behold, the husbandman waiteth for the precious fruit of the earth, and hath long patience for it, until he receive the early and latter rain. Be ye also patient; stablish your hearts: for the coming of the Lord draweth nigh. —James 5:7,8
The 7 Commitments of a Forerunner – by Mike Bickle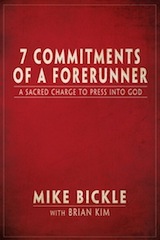 The_7_Commitments_of_a_Forerunner_-_MikeBickle
The Sacred Charge is a prophetic call to refuse to settle for anything less than radical pursuit of God and His purposes for this generation. This teaching challenges us to live in wholehearted pursuit of Jesus as forerunners who operate in the power of the Holy Spirit today, as we prepare ourselves to prepare others for the Lord's return. Mike Bickle identifies seven foundational commitments to walk out this sacred charge in everyday life, with insights and practical steps on how to do this.
Prayers to Strengthen Your Inner Man – by Mike Bickle
Mike Bickle teaches on the biblical necessity of praying for our own heart to be strengthened by the Holy Spirit's power. Something as simple as developing a personal prayer list is a practical but essential tool that equips us to maintain consistency in our prayer life. In this series, Mike offers practical help by sharing the prayer lists that he has used for years. He offers three acronyms to use to help focus our personal pray times.
Book_-_Prayers_to_Strengthen_Your_Inner_Man_-_Mike_Bickle
The Seven Longings of the Human Heart – by Mike Bickle
God created every person with deep longings that only He can fill. We all long for beauty, for greatness, for fascination, for intimacy. We all long to be enjoyed, to be wholehearted, to make a lasting impact. When we realize that these longings are godly and that God wants to fulfill them, we begin to find new freedom and joy. To encounter God in these areas is to be fully alive. We are not to repent of these longings—only to repent of seeking to satisfy them outside of our relationship with Jesus.
Book_-_The_Seven_Longings_of_the_Human_Heart_-_Mike_Bickle
The Rewards of Fasting – by Mike Bickle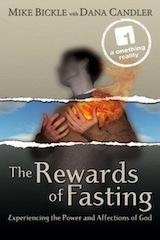 The grace of fasting is a gift from God that positions us to experience more of God's power and affections. We fast to encounter God more and to change the world! Done in the right spirit, fasting increases our receptivity to God's voice and His Word. Jesus called His disciples to fast in a way to encounter Him more as the Bridegroom God (Mt. 9:15). This book is designed to equip people to embrace the discipline, grace, and joy of fasting, that you might encounter more of Jesus as your heavenly Bridegroom. This book explores the rewards and delights that come to those who fast.
Book_-_The_Rewards_of_Fasting_-_Mike_Bickle
Growing in the Prophetic – by Mike Bickle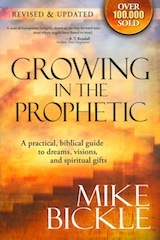 In this updated version, Mike adds new stories and principles gleaned from his many years of experience with the prophetic ministry. He combines thorough biblical balance with many personal experiences to equip believers to prophesy and to relate in a right way to others who prophesy. This book offers proven guidelines for the operation of prophecy in the lives of individuals and in the context of a local church family. For churches today who are struggling to find the proper place for the prophetic gifting in their congregations, this book will provide practical help.
To Purchase a Hard Copy of the Mike Bickle Books paste the following link in your browser: http://store.ihop.org/store/search/brand/Mike-Bickle-Books/
The Pursuit of God – By A.W. Tozer
In the muddle of day-to-day life, have you somehow forgotten that Christianity is a living, vibrant relationship with a personal God? In this classic bestseller and recipient of both the ECPA Gold and Platinum Book Awards, The Pursuit of God reminds and challenges you to renew your relationship with your loving God. In each of the 10 chapters, Tozer explains one aspect of hungering for God and ends with a prayer. The_Pursuit_of_God
The Autobiography of Benjamin Franklin
The Autobiography of Benjamin Franklin is the traditional name for the unfinished record of his own life written by Benjamin Franklin from 1771 to 1790; however, Franklin himself appears to have called the work his Memoirs. Although it had a tortuous publication history after Franklin's death, this work has become one of the most famous and influential examples of an autobiography ever written. franklin_fprsp1_1
In the Shadow of the Cross – Chinese Version
Mid-East Beast – by Joel Richardson
Islamic Antichrist – by Joel Richardson
The Power of a Focused Life – by Mike Bickle 
Where is the Church in the Book of Revelation? – by Mike Bickle
Where_is_the_Church_in_the_Book_of_Revelation
The Role of Prayer in Revelation, and the End Time Church – by Mike  Role_of_Prayer_in_Revelation_and_the_End_Time_Church
Outline of the Book of Revelation – Extended Version – by Mike Bickle Outline_of_the_Book_of_Revelation-Extended
Outline of the Book of Revelation – Main – by Mike Bickle Outline_of_the_Book_of_Revelation-_Main
Glossary of End Time Terms – by Mike Bickle 
One Thing Notes 2009 – by Mike Bickle
One_Thing_2009_Teaching_Notes_Mike_Bickle_Web_Edition
The Book of Joel- by Mike Bickle
I Woke Up In Heaven
Working For God:  WorkingForGod
The object of this little book is first of all to remind all Christian
workers of the greatness and the glory of the work in which God gives
a share. It is nothing less than that work of bringing men back to
their God, at which God finds His highest glory and blessedness. As
we see that it is God's own work we have to work out, that He works
it through us, that in our doing it His glory rests on us and we glorify
Him, we shall count it our joy to give ourselves to live only and
wholly for it.
I Will God Down if You Hold the Rope – Andrew Fuller
by John Piper  I WILL GO DOWN IF YOU HOLD THE ROPE
We are in the midst of this third era of modern missions.
Today the great reality, as documented in Philip Jenkins' The
Next Christendom,1 is that the center of gravity in missions is
moving away from Europe and the United States to the South
and East. Places we once considered mission fields are now centers
of Christian influence and are major missionary sending
forces in the world.