Jesus is Our Final Answer
by Timothy Jerry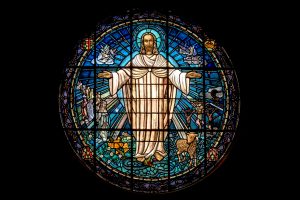 Over the years, I have heard numerous Christians sight various examples of Bible characters that they believe supported the idea, that God chooses for reasons beyond our knowledge to heal some while refusing to heal others.
Two of the most common examples are Job and the apostle Paul. The traditional interpretation of Job's dilemma is that Satan comes before God and challenges God, by stating that if God were to remove His protection from Job he would curse God. Because God allows Satan to buffet Job, they interpret this as ultimately the will of God in Job's life.
Next is the apostle Paul. Tradition has it that Paul's infirmity was a heinous eye disease that Paul sought the Lord three times for healing. To which the Lord replied, "My grace is sufficient for you." Supposedly meaning that it's enough that I saved you Paul, you should be satisfied with that and stop seeking healing as well.
I would like to point out that just because God permitted Satan to come against Job, this is not synonymous with this being His will for Job's life. By the way, Job's was eventually healed and his latter end was greater than his former.
As for Paul's thorn in the flesh, the Scripture clearly states that this was "a messenger of Satan." 2 Corinthians 12:7 (NKJV)…a thorn in the flesh was given to me, a messenger of Satan to buffet me…
This was not an eye disease, but rather a harassing spirit that would stir up agitation wherever Paul would go and preach the gospel.
However, let's just say for the sake of this discussion that God allowed Satan to attack Job because He wanted to test Job's character. Let's also assume that Paul's infirmity was an eye disease that hindered him physically. Job and Paul are not the final answer when it comes to determining God's willingness to heal, nor are any other Bible characters.
Our template for the subject of divine healing is none other than Jesus Himself.
John 14:6-12 (NKJV) Jesus said to him, "I am the way, the truth, and the life. No one comes to the Father except through Me. "If you had known Me, you would have known My Father also; and from now on you know Him and have seen Him." Philip said to Him, "Lord, show us the Father, and it is sufficient for us." Jesus said to him, "Have I been with you so long, and yet you have not known Me, Philip? He who has seen Me has seen the Father; so how can you say, 'Show us the Father'? "Do you not believe that I am in the Father, and the Father in Me? The words that I speak to you I do not speak on My own authority; but the Father who dwells in Me does the works. "Believe Me that I am in the Father and the Father in Me, or else believe Me for the sake of the works themselves. "Most assuredly, I say to you, he who believes in Me, the works that I do he will do also; and greater works than these he will do, because I go to My Father.
Jesus clearly states that the works that He performed were done by the Father within Him. What works was He speaking of? He was speaking of healing the sick, working miracles, and setting people free. The earthly ministry of Jesus was comprised of preaching, teaching, and healing the sick.
Matthew 9:35-38 (NKJV) Then Jesus went about all the cities and villages, teaching in their synagogues, preaching the gospel of the kingdom, and healing every sickness and every disease among the people.
Acts 10:38 (NKJV) "how God anointed Jesus of Nazareth with the Holy Spirit and with power, who went about doing good and healing all who were oppressed by the devil, for God was with Him.
Jesus healed the sick by the Father's power, delivering them from Satan's oppression of sickness and disease. In doing so, He demonstrated time and again that healing is and always been the will of God. Everything Jesus did while on the earth was an expression of the will of His heavenly Father.
John 1:18 (NCV) No one has ever seen God. But God the only Son is very close to the Father, and he has shown us what God is like.
John 5:30 (NKJV)… "I do not seek My own will but the will of the Father who sent Me.
John 4:34 (NKJV) Jesus said to them, "My food is to do the will of Him who sent Me, and to finish His work.
John 6:38 (NKJV) "For I have come down from heaven, not to do My own will, but the will of Him who sent Me.
Jesus healed the sick, because it was the will of God the Father. Jesus healed the sick, because He was setting people free from the bondages and oppression of the devil. Jesus healed the sick, to demonstrate the will of God. Jesus is the final answer when it comes to God's willingness to heal.
Jesus never refused to heal anyone.
Do you ever see one time when someone came to Jesus seeking healing and He said to them, "No, this sickness is the will of God in your life." You might think that He would have at least told this to someone wouldn't you? Yet every time someone came to Jesus seeking to be healed, He would heal them. He did so because healing is emphatically the will of God!
Matthew 14:14 (NKJV) And when Jesus went out He saw a great multitude; and He was moved with compassion for them, and healed their sick.
Mark 1:40-42 (NKJV) Now a leper came to Him, imploring Him, kneeling down to Him and saying to Him, "If You are willing, You can make me clean." Then Jesus, moved with compassion, stretched out His hand and touched him, and said to him, "I am willing; be cleansed." As soon as He had spoken, immediately the leprosy left him, and he was cleansed.
Jesus time and again, did exactly what the Father in Him desired Him to do, He healed the sick. It was the will of the Father within Him that compelled Him to do so.
Jesus healed the sick because it was and still is the will of the Father.
Hebrews 13:8 (NKJV) Jesus Christ is the same yesterday, today, and forever.
Jesus answers the question concerning God's willingness to heal once and for all. Not Job, not Paul, not some person we may know who was not healed. Jesus is our perfect example of God's will and God's will is healing for all.
Image by paul-zoetemeijer-fqa7yvnx280-unsplash-1.jpg