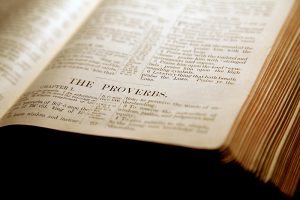 By Timothy Jerry
Proverbs 3:13-18 (NLT) Joyful is the person who finds wisdom, the one who gains understanding. For wisdom is more profitable than silver, and her wages are better than gold. Wisdom is more precious than rubies; nothing you desire can compare with her. She offers you long life in her right hand, and riches and honor in her left. She will guide you down delightful paths; all her ways are satisfying. Wisdom is a tree of life to those who embrace her; happy are those who hold her tightly.
Godly wisdom is priceless. Godly wisdom gives those who posses it the ability to use good judgment and make wise choices.
We all could look at times in our lives when if we had the opportunity to live our lives over, we would have made better choices.  We can look back at unwise decisions we made that cost us time, money and peace of mind. This is what happens when people live without godly wisdom.
The book of Proverbs is written for young people, for the express purpose of giving them godly wisdom to make right choices. It is filled with parental advice about staying away from those who are involved in wild criminal behaviors and warns of the consequences of this type of living. Proverbs 1:10-19
Proverbs warn about the dangers of getting involved with sexual immorality and the ways of the ungodly world.
These Proverbs give advice about any number of life's challenges, from handling money, honoring God and parents, dealing with foolish people, the pitfalls of pride, and the rewards of living a godly life.
I believe that if a person will just follow the advice of the book of Proverbs, they will find successes and have a blessed life.
I like to use this book as a daily devotion. There are 31 chapters, so you can read a chapter each day, corresponding to the day of the month and then start over each month.
If you want godly wisdom then this is a great place to grow in your understanding of God's perspective of the world and deal wisely in the affairs of this life.